"Muddy Waters " Phono MM+MC
Etymology of the name
To the enthusiasts of blues and music in general the name chosen for this amplifier will definitely evoke great emotions.
Muddy Waters was an American songwriter, artist and guitarist; he is considered as one of the greatest bluesmen of all times. Muddy Waters inspired British beat music and bands such as the Rolling Stones.
Since he was a child he was nicknamed 'Muddy Waters' by his grandma because of his love for rolling in the Mississippi's mud.
Description:
Muddy Waters is a stereo preamp in two high quality frames with both MM and MC inputs.
The choice to build it in two frames is driven by the ambitious goal of making a reference of it. The power supply frame hosts both the anodic power supply and the filaments power supplies, rigorously stabilized. The anodic power supply straightens the network sinusoid with a double vacuum tube Ez81. A refined stage of inductive filtering follows; as well as reducing the ripple naturally down to tiny values, it eliminates completely the damaging high frequency ripple components.
The input stages are stabilized through gas-discharge tubes, whilst the power supplies of the final stages are implemented through two further independent filter cells for the two channels.
The two-frame system keeps the delicate and sensitive amplification circuits away from anything that might pollute the audio signal.
The audio frame is built from an alloy of anticorodal aluminium and carbon fiber, CNC made and laser printed. Inside the wiring is rigorously handmade point to point; this choice is elegant and half way between expertise and art.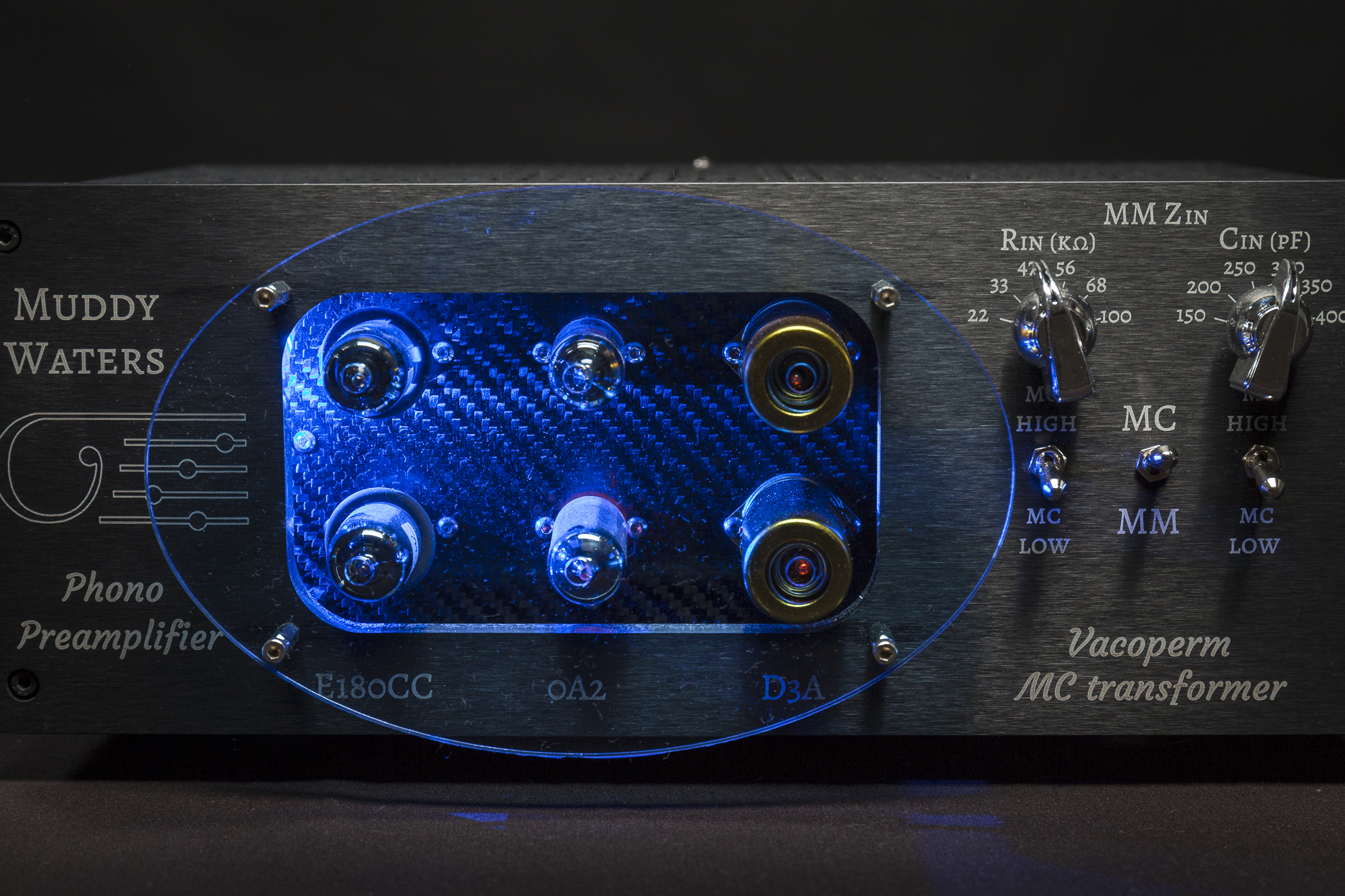 The MC preamp unit is implemented as naturally as possible. It uses Clinamen transformers with Ultra Size nucleus in Vacoperm alloy (you can read about the importance of step up transformers on the Clinamen site). The MM/MC commutation takes place via a switch on the front. Likewise through a pair of switches on the front we can select two different MC gain, low and high gain. Nevertheless, it is a good idea to choose the transformer most suitable to your needs at the moment of ordering the preamp, since Clinamen has a wide range of transformers that well match your needle. We also have an after sale transformer exchange service, if the customer buys a needle that is very different from the previous one.
Muddy Waters, like all other Clinamen devices, is apparently simple in the schematic; it exploits all the intrinsic virtues of passive and active components used for it to achieve an extremely natural, dynamic and emotional sound.
No cathode follower, no feedback, not even local, are used to lower the impedance, linearize the response, reduce the distortion. All the performances are achieved through the Natural Path of Sound, exploiting the laws of physics, using intrinsically linear active components and placing each component in the right place, enhancing its positive characteristics and reducing its faults
For example the triodes used in Muddy Waters have high trans-conductance; they allow for the combination of high gain and low inner resistance. Thus the feeble electric signal coming from the pickup is amplified with the highest possible purity and sent to the totally passive RIAA equalizing network via high wattage carbon composition resistors, in order to minimize noise, and mica and polystyrene condensers. The RIAA is also made with low value resistors, thanks to the low driving impedance of the first stage; this allows for a very low 'thermal' noise.
By exploiting the qualities of outstanding components we can guarantee electrical performances without any help from feedback with our ideal concept of Natural Path; that is indeed the only way to ensure a vivid and moving Sound without any manipulation.

MUDDY WATERS TECHNICAL DATA
Vacuum tube phono MM/MC preamplifier. Build in two frames. ( PSU and signal)

High trans-conductance tubes, Passive RIAA, zero feedback.

MC stage implemented with Custom Clinamen transformers, with ultra large Vacoperm cores.

Adjustable MM input impedance, with two rotary switches :
Resistor (ohm) : 22K- 33K-47k-56K-68k-100k
Capacitance (picoF): 150-200-250-300-350-400
Selectable MC gain , from switch, in the front panel --> MC LOW and MC HIGH

Available MC gain: 1:12 (LOW) e 1:24 (HIGH) or 1:15(LOW) e 1: 30 (HIGH)

(you can specify your preferences when ordering )

Inductive PSU, EZ 81 ( 6CA4) Vacuum tube rectifier

input stages are stabilized through gas-discharge tubes

Fixed bias in all stages

Point to point hand made wiring

Audio board built on a carbon fiber plate

carbon resistor Kiwame

Chassis: anodized anticorodal and carbon fiber

MM Gain at 1 Khz : 43 dB. ( 40 dB with the optional step down output transformers)

Acceptance : 200 mV rms at 1 Khz

RIAA accuracy: +/- 0,15 dB

Tubes: 1xEZ81, 2 x D3A, 2 x 0A2, 2x E180CC ( New Old Stock)

Input impedance : 47 kohm

Output impedance: 2250 ohm (1500 ohm with optional step down transformers)

Minimum load

≥

25 Kohm (15 Kohm ohm se si impiegano i trasformatori di uscita)

Audio Chassis dimensions: L 34 cm, D 27 cm, H 14 cm

PSU chassis dimensions : L 24 cm, D 30 cm, H 14 cm

Power consumption : 45 Watt

Fuse : 500 mA delayed 5x20 mm

PRICE AND ACCESSORY
Price : 7200 euro

Output step down transformers, custom, Clinamenaudio with Vacoperm ultra large cores extra charges :680 euro

Price for MC transformers change (with retirement of the old): 300 euro
Below you can download Vincenzo Fratello's reviews of 'Muddy Waters' on Audiophile Sound 156 and Audiophile Sound Extra 157. Happy reading.

AS156.pdf

AS extra157.pdf
Scarica qui il manuale di messa in opera ed utilizzo di "Muddy Waters" :

Muddy Waters messa in opera.pdf