"DNA" semi-balanced signal cable

The name of the cable, DNA, has been inspired by the helicoid building geometry of its internal conductors. DNA is entirely handmade; this allows us to choose and act on any design variable without leaving anything to chance. The scientific method is at the basis of its realization as much as possible.
DNA, like all other Clinamen Audio signal and power supply cables, is designed and built with care for geometry and quality of the conductors, shielding from electromagnetic and electrostatic disturbing fields and radiofrequency, mechanical damping and the quality and stability of mechanical connections. The coil geometry has been studied to have the best combination of the parasite parameters of the cable (it would be nice to void them all but physics doesn't let us…) in order to maximize the propagation speed of the signal going through it.
In the DNA the hot and cold poles are made of the parallel of 8 + 8 conductor cables with differentiated sections.
The cable's sonic balance has been achieved through experiments and listening tests and then the calibration of the total section of the copper as well as the ratio between the conductors with various sections. The conducting material is annealed silver plated copper with Teflon insulation. Around the core there are 6 layers, 3 for mechanical damping, one for shielding and to as protection/finishing.
The cable shielding is achieved through a copper sleeve which protects the cable from possible disturbing electrical fields within which it might happen to work. The terminations are carried out with top of the range connectors, the SHARKs of the SPARKLING line with rhodium central pin and external pin with thick gilding and Teflon insulation of the central pole.
Plaques made from a block of ERGAL are applied in the middle of the cable with a three-fold function:
They dampen the vibrations that the cable captures in the air

They allow the housing of the wooden plaques with name and connection direction of the cable

Appearance.
All the terminations are built with 4% Silver tin. 30 hours breaking in are required for the maximum sonic performance of the cable. The external sleeve of the DNA cable is made of black nylon with red lacquered copper inserts, aesthetically elegant (the sleeve you can see in the picture is out of production).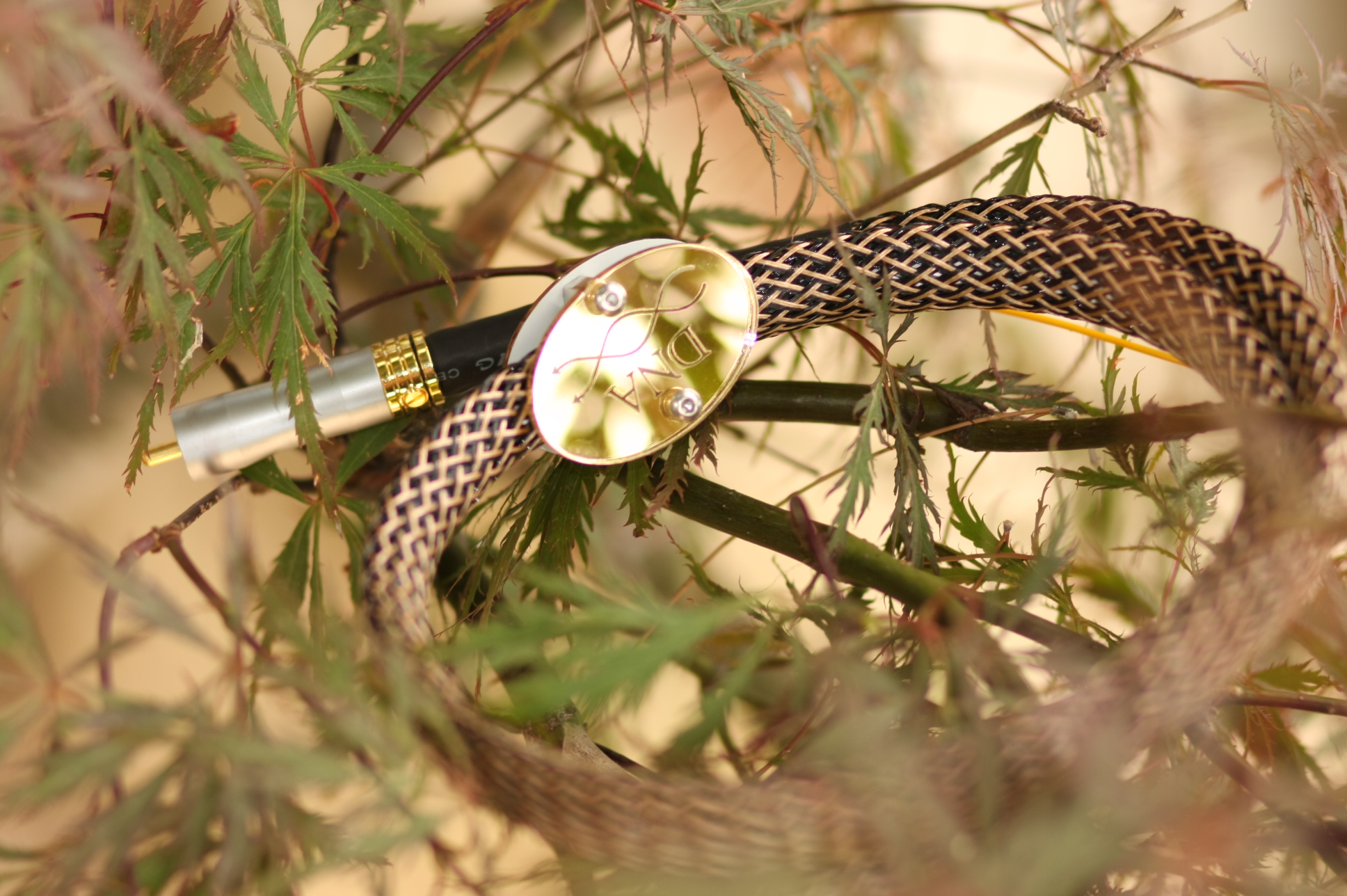 Images of a pair of DNA cables with sleeve and first-generation RCA connectors, without any ERGAL plaques.
SONOROUS FEATURES
The cable is very balanced throughout the whole spectrum of frequencies. It is suitable to already balanced systems. The low range is extremely articulated and full of harmonics with a tendency to 'float' in the air. The mid-range is full-bodied; the mid-high range is full of harmonics, contrastive but not at all tiring. The high range has some grain that gives the reproduction some sparkle without ever being tiring. The scene is very much developed in the three dimensions.
DATA SHEET
Helicoid coil geometry.

Multiple 8 + 8 conductor cables per pole with differentiated sections.

Conductors made from silver plated copper annealed after wire-drawing.

Insulation of the individual cables with Teflon.

Electrostatic shielding with copper.

ERGAL plaques with 'damper' function.

SHARK SPARKLING connectors with copper central pin, beryllium cold contact and rhodium plated.

Soldering with 4% Ag WBT.

Layered design with four layers of mechanical damping, one of electrostatic shielding and two of external protection.

Delivered in a beech plywood box, laser cut and printed.

Price for the 1 metre pair 1,100 Euros