Aria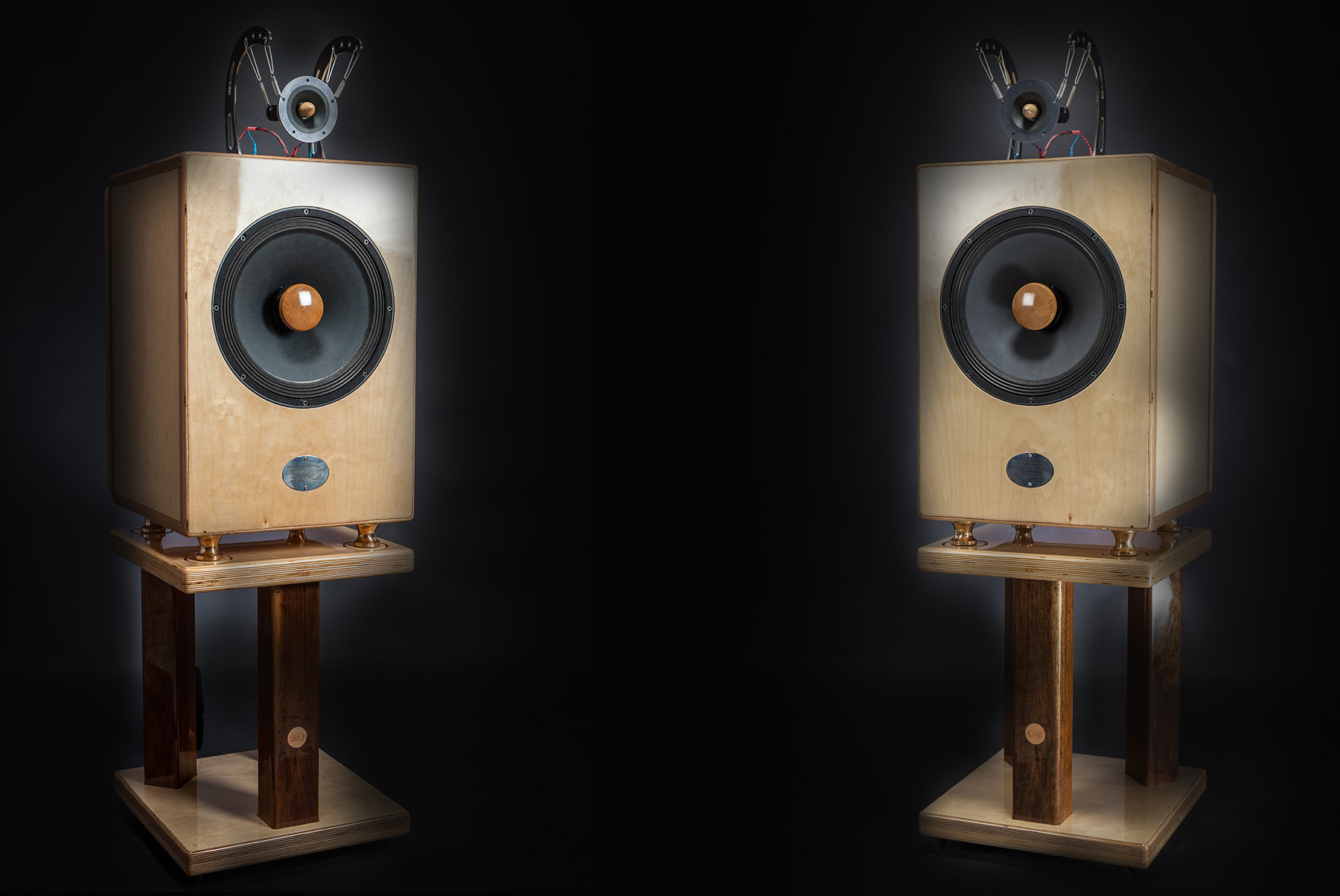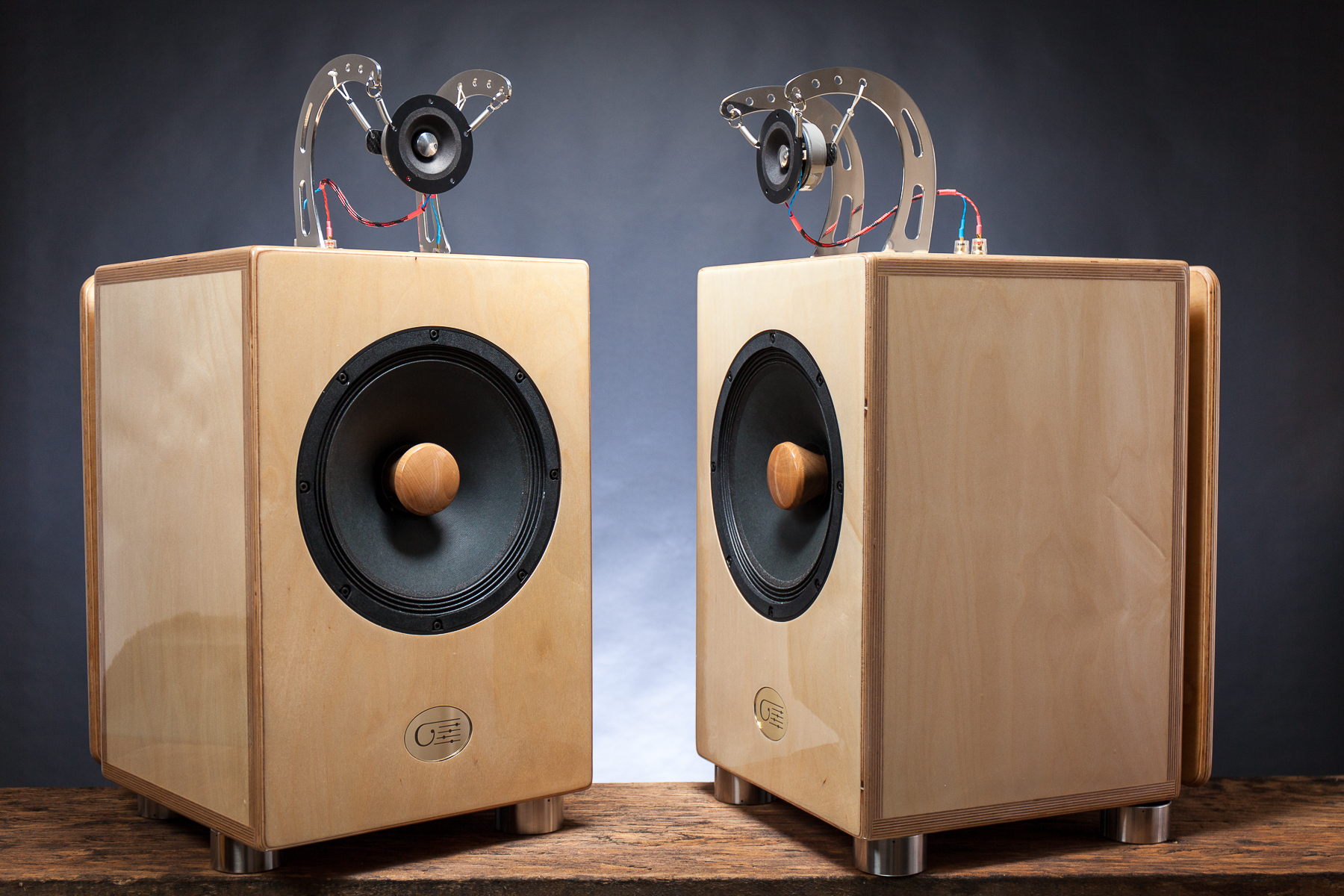 "ARIA" is Clinamen's offer to get right into the heart of music, with an eye on bulkiness and cost. Like all engineering projects, we weighed pros and cons and we asked ourselves what was fundamental to have and what we could give up. In order to have acceptable costs and bulkiness we turned to a stand speaker whose size is still quite large. We have a 65 liters cabinet which will be supported by a solid wood stand.
In order to have high sensitivity and dynamics – a necessary requirement for realism, live effect and high emotional involvement - we relied on a Full-range loudspeaker with a big diameter, a good 30 cm, mounted in a cabinet made from 24 mm thick birch plywood. The loudspeaker boasts a low frequency of resonance and a response extended to around 12 KHz. Its motor has an underhung design for the polar plate/cabinet coil group. It is an expensive solution but it guarantees maximum linearity and efficiency. It has a beech wood phase plug that helps increase dispersion of very high frequencies.
The option with field coil magnet of this excellent loudspeaker can also be mounted. The connections for the power supply of the 'field coil' are on the back and an excitation tension variable between 9 and 12 volts is supplied from the outside to create the field of magnetic induction. The wood box has a 10mm thick stainless steel threaded bar to help support the heavy magnet of the excited version.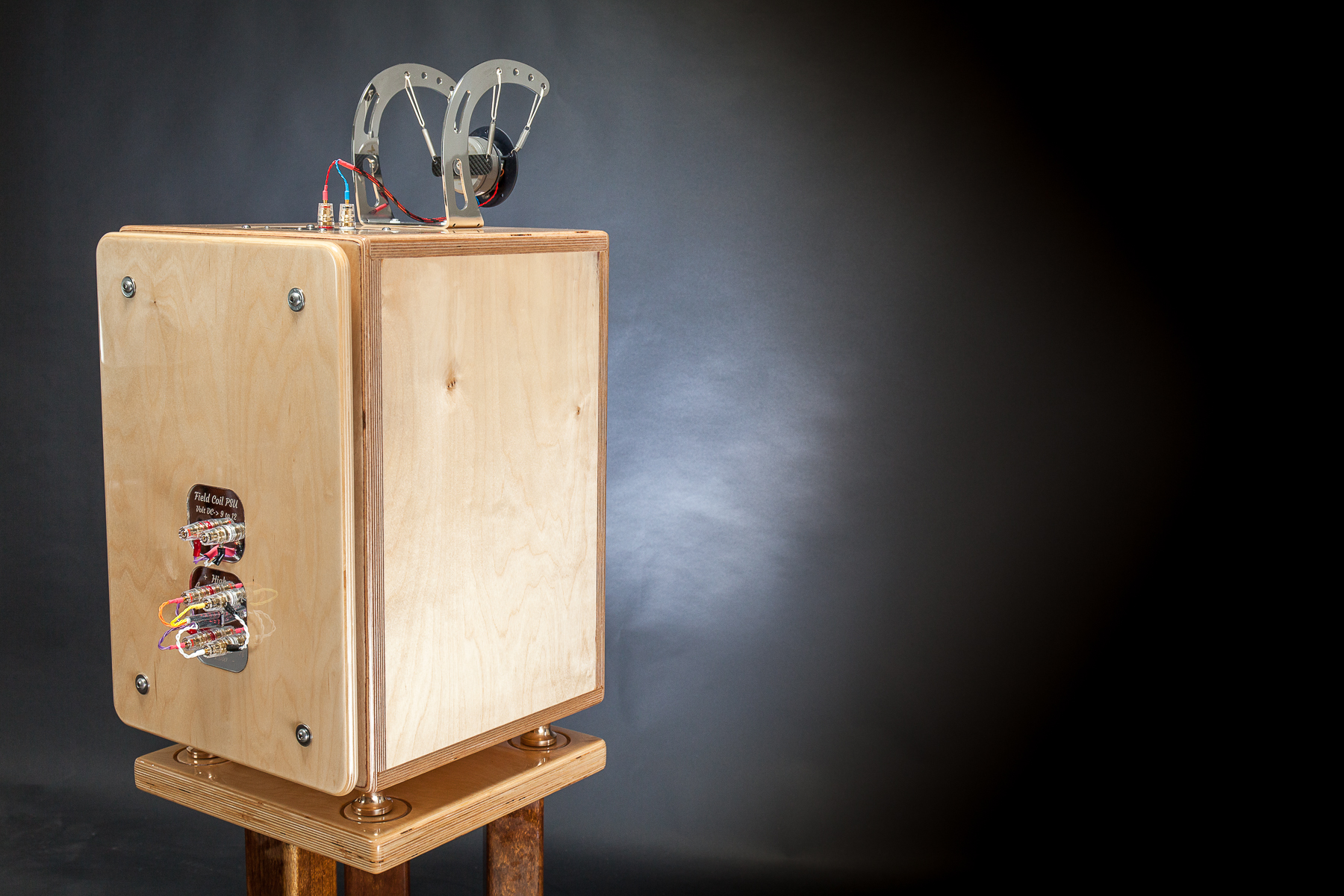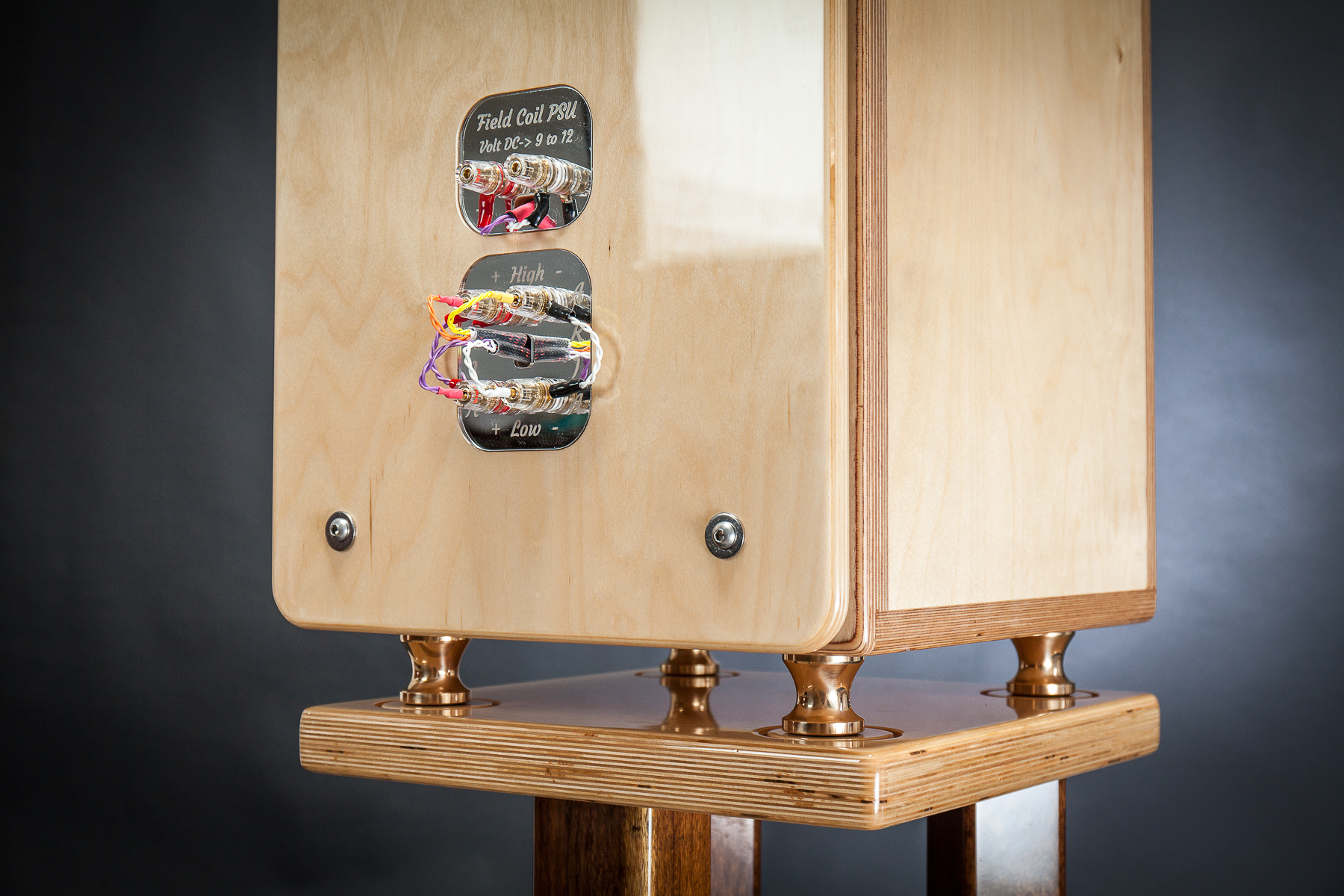 The Aria products are always sold with an excitation set-up; at any time they can be brought back to be upgraded.

When excitation is implemented we apply a steel plaque on the top to identify the special motorization.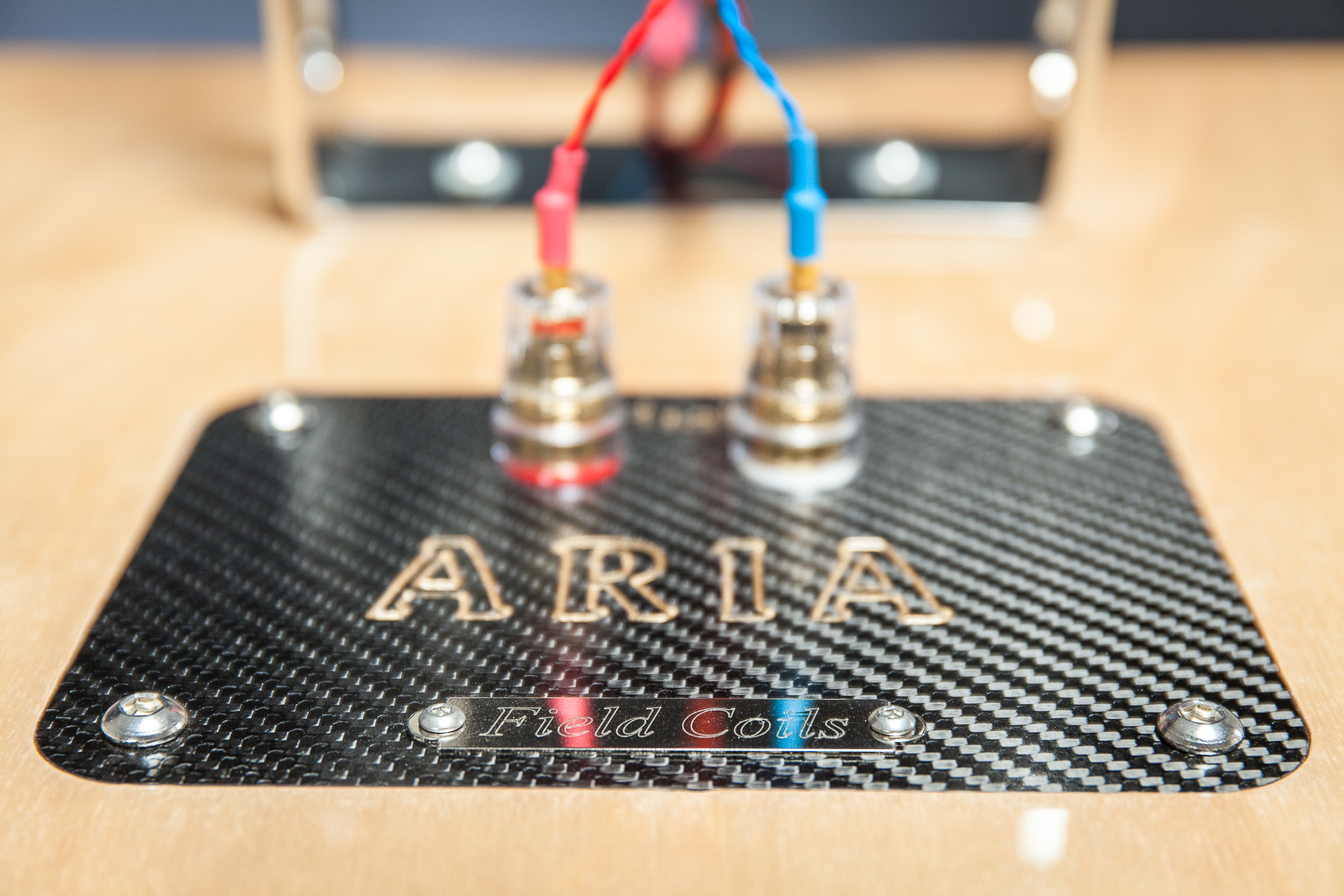 The extreme high frequency range is completed with an exquisite paper tweeter, it is as simple as it is brilliant. The super-tweeter in question has a paper cone and very light membrane, only 0.6 grams, tied to the frame without any suspension. This particular mounting sets it in the category of super-tweeters, having sufficiently high Fs; indeed in the 'ARIA' its sonorous contribution starts at around 8KHz. The great advantages that follow this kind of constructions are speed, naturalness , transient response and sensitivity.
Indeed the huge magnetic motor drives with vigor and control the ultralight membrane in the field of sensitivity of compression tweeters; plus there are no air compression phenomena and directivity typical of the latter units. Furthermore the membrane being able to irradiate backwards, supplies this tweeter with a dipolar radiation of unusual beauty, extremely airy and free to create sonorous holograms on the stage that opens up in front of the observer.
The tweeter has recently been updated with a front wave guide made from beech wood, an ogive behind the magnet and a beech wood phase plug. The solid wood provides a useful acoustic function of wave guide as well as an impressive mechanic damping to the flange and magnet.
The performance of the tweeter in the listening process has hugely increased, integrating in the best possible way to the lower range and supplying an even higher spatiality.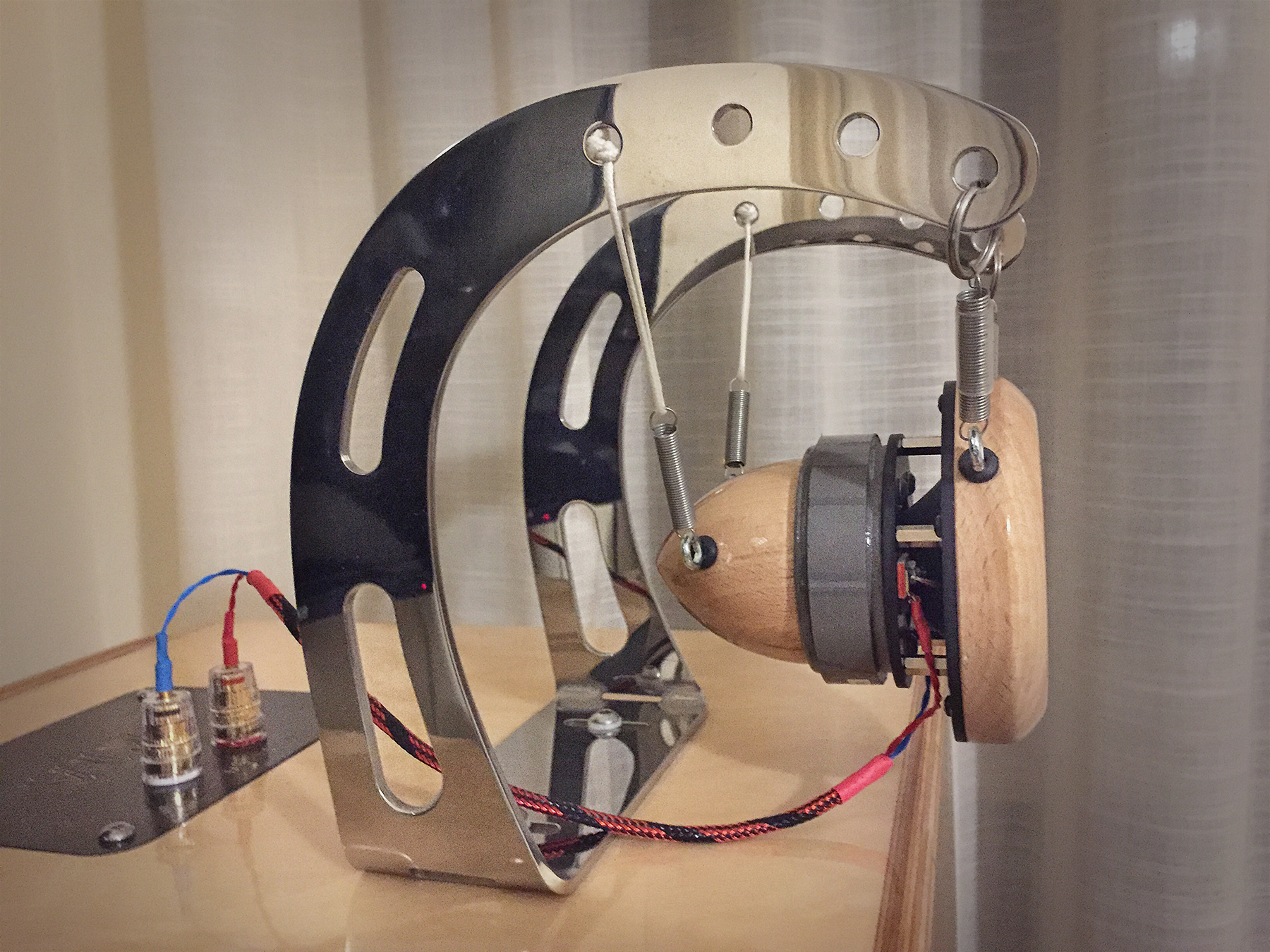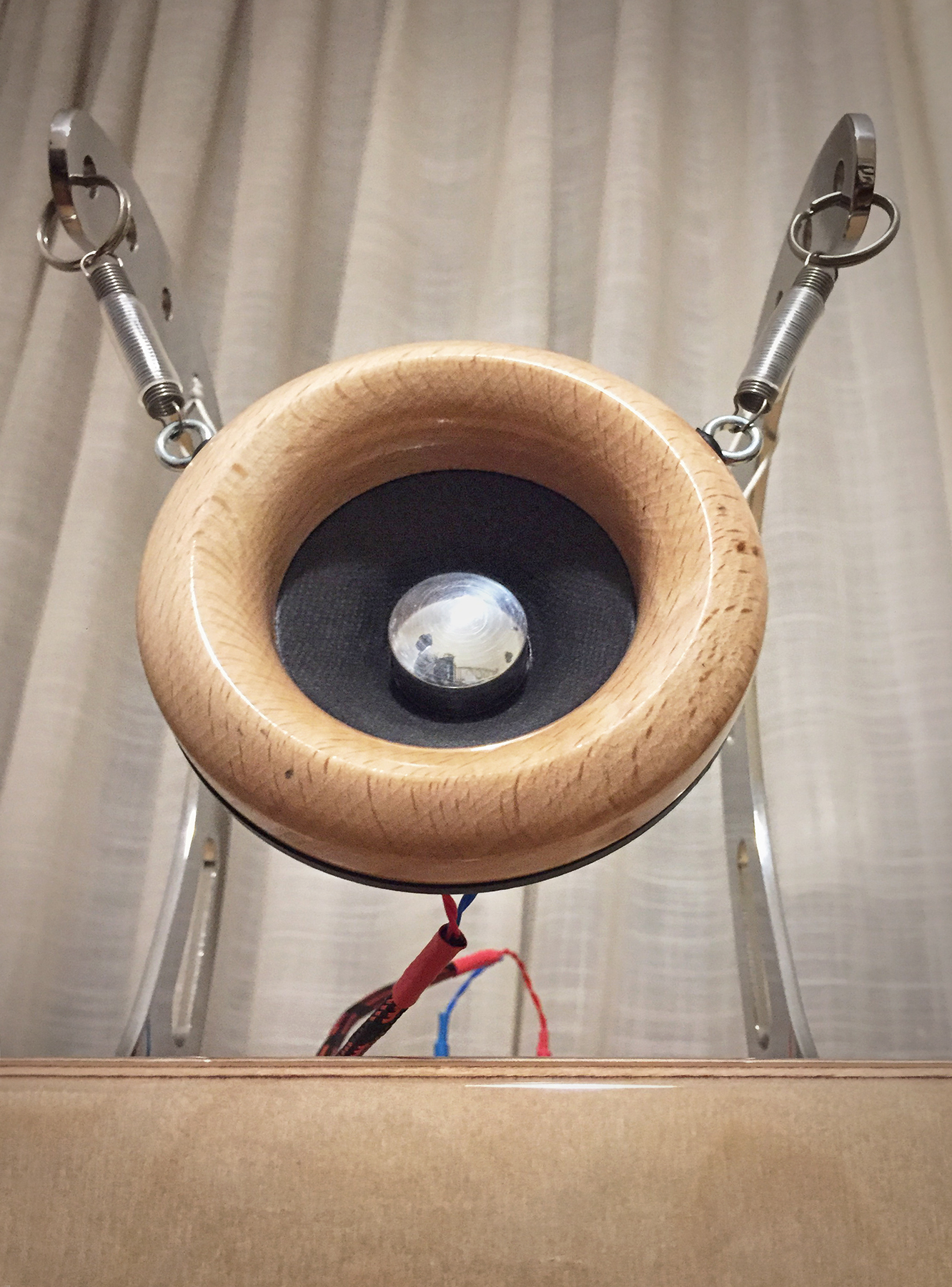 The tweeter is suspended by a 4mm mirror polished stainless steel fork through springs. This system has now become our distinctive mark and it allows us to completely isolate the tweeter from the vibration of the woofer's box. This helps improve substantially the tweeter's performance. Just think that the vibrations of the tweeter's membrane when generating high frequencies equal the vibrations that we'd get from the low range. Just to give you an example, it would be impossible for anyone to draw a nice picture by leaning on a table that vibrates a few centimeters at a time (the same movements of the pencil when drawing). Once these issues have been solved for the tweeter, it flaunts incredible sound sophistication and ability to recreate a musical stage. Furthermore the support fork can translate longitudinally for 4 cm in order to find the best tuning with the ambience emission.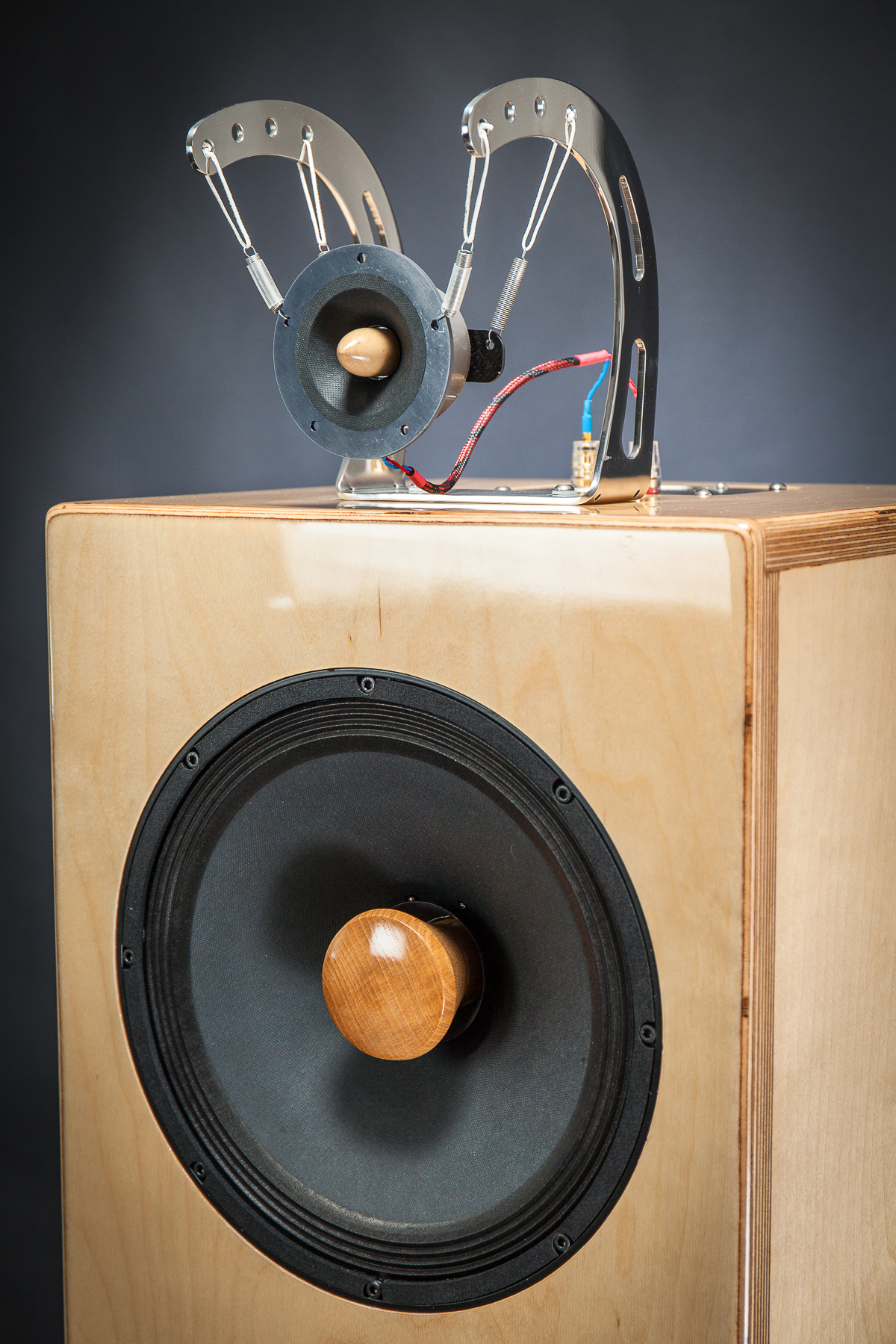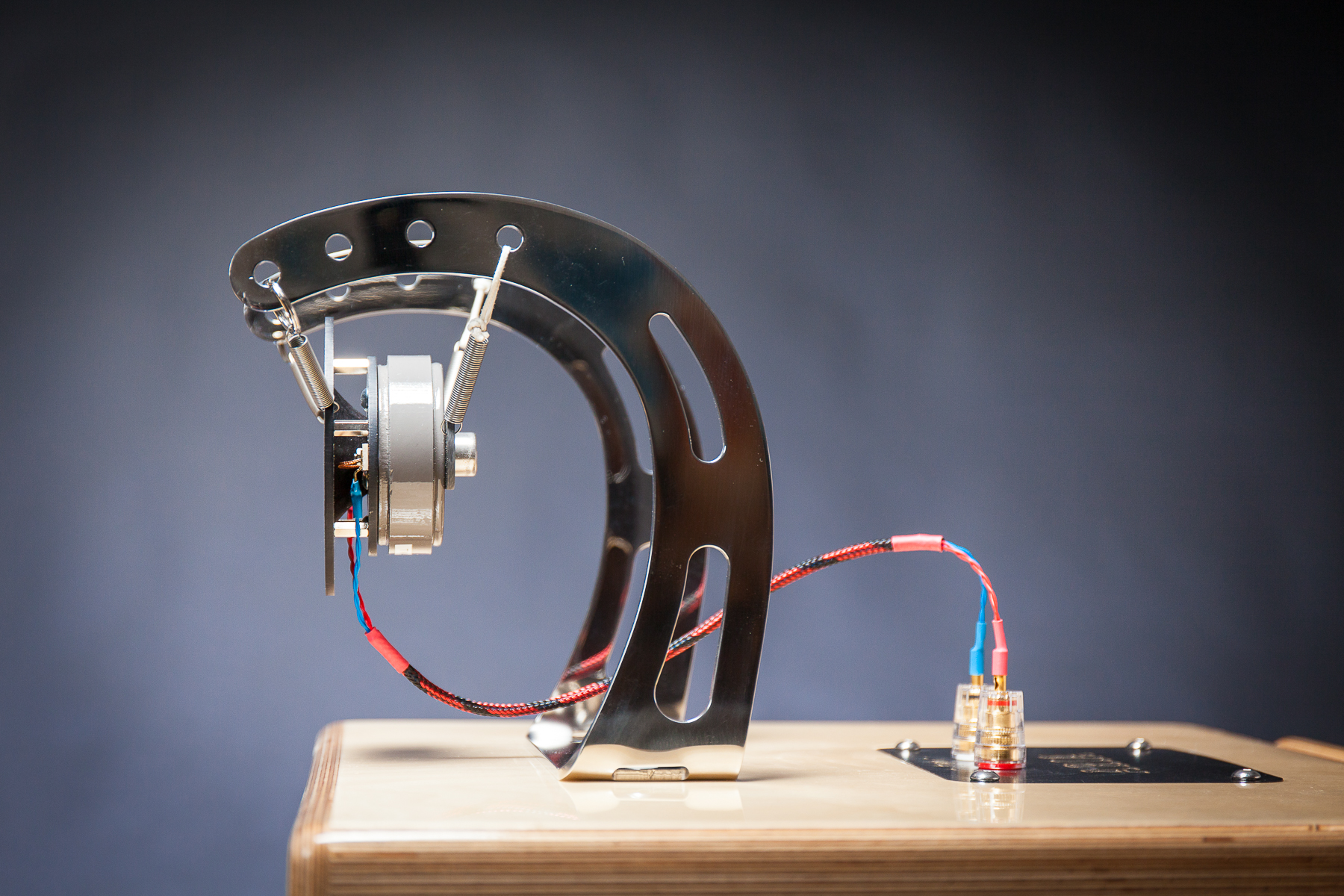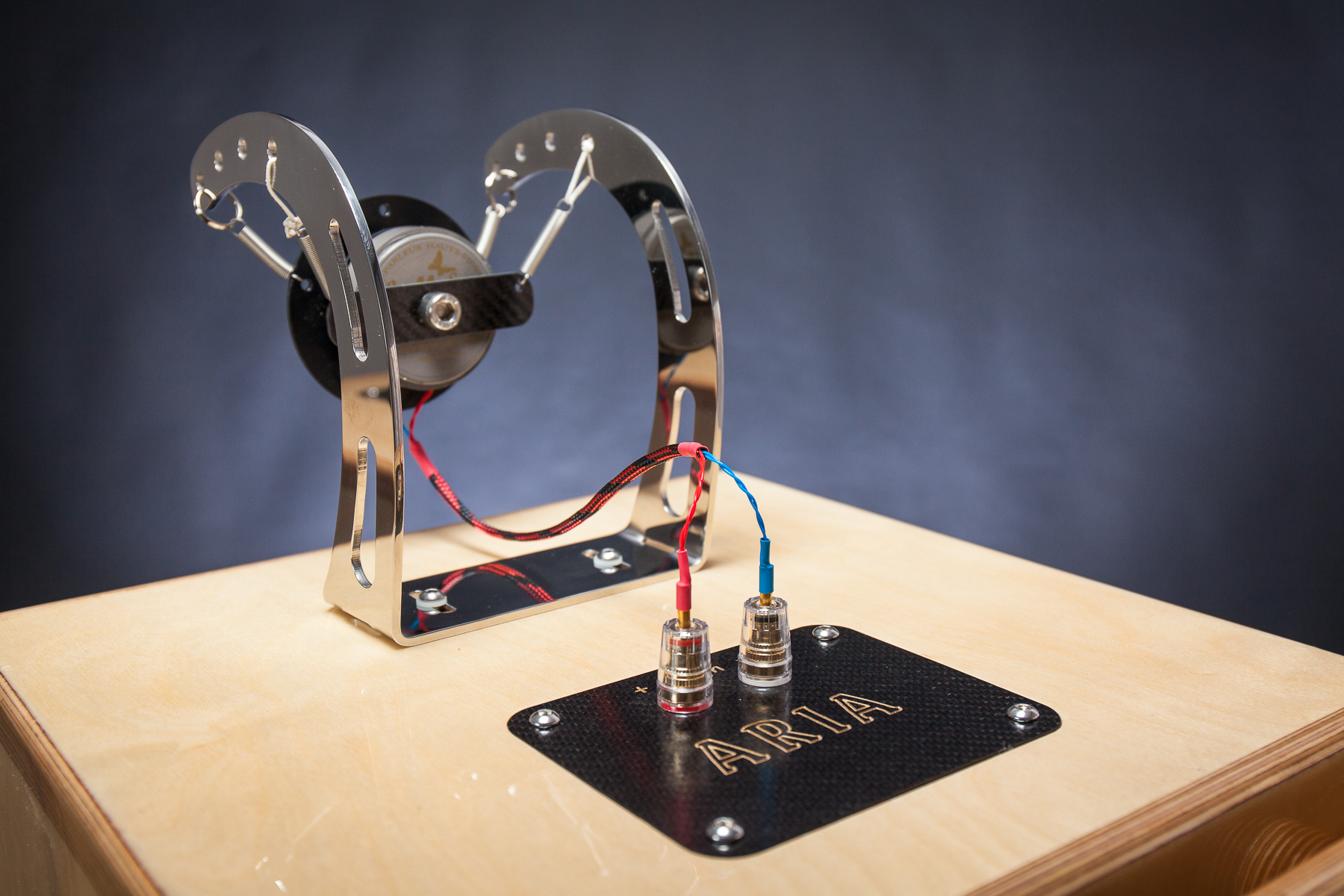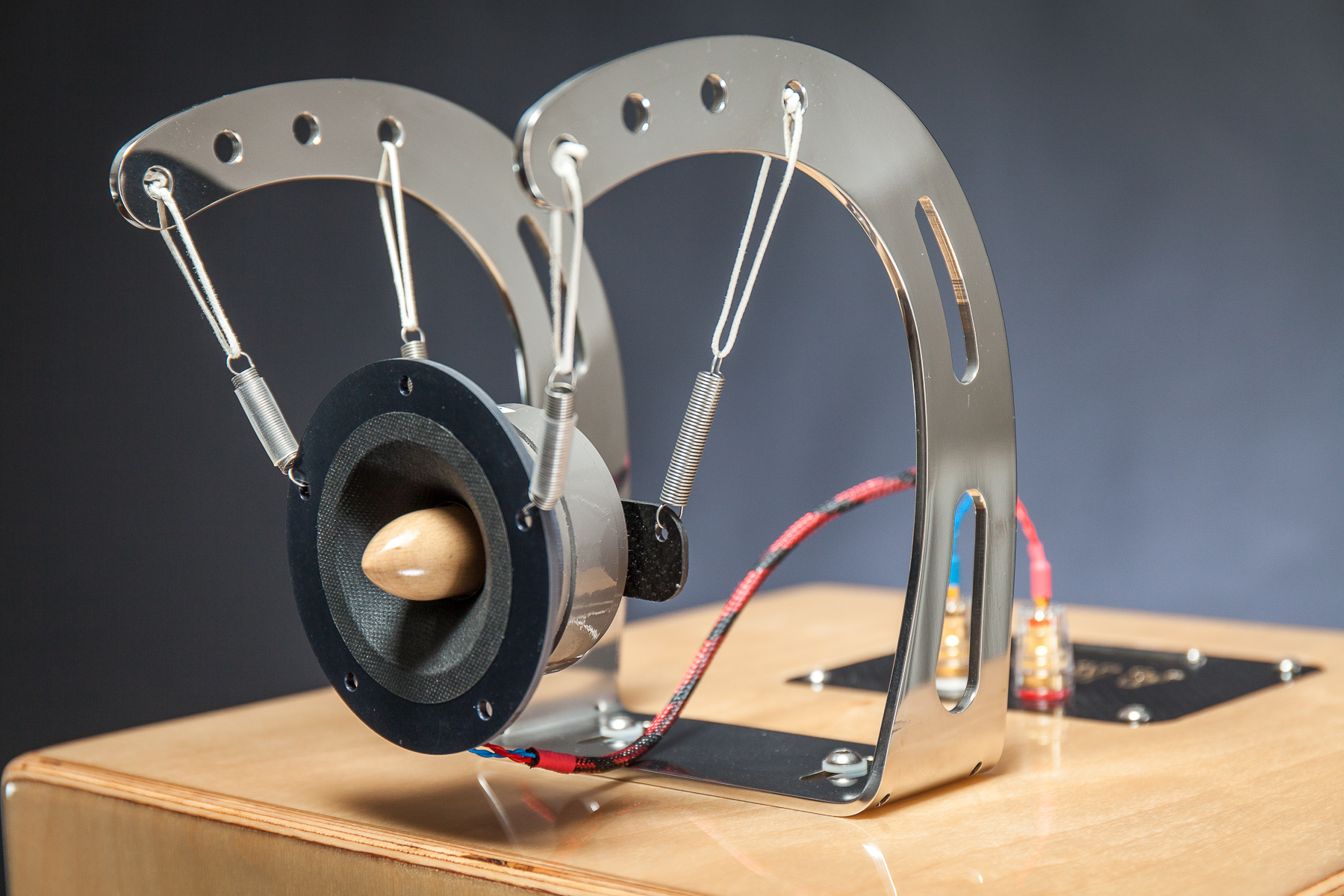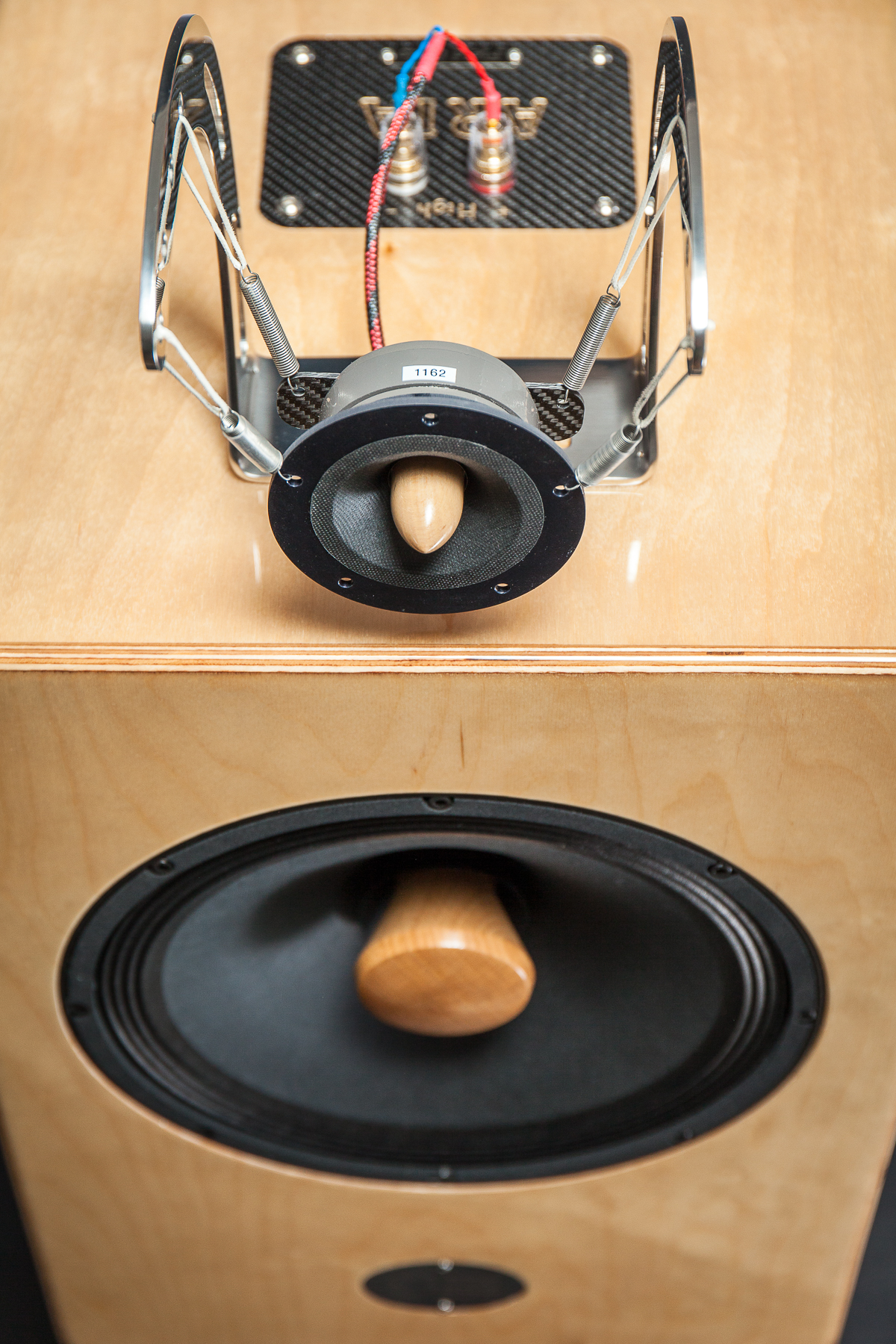 The tuning system of the ARIA is our own design and we can safely say it's unique. We've called it 'Tuning Distributed Damping Reflex'. It joins several concepts, it is related to the bass reflex but it is quite different for its implementation and realization. The tuning port has a high surface on which we have placed a well-focused and calculated resistive loss.
It has the purpose of leveling the impedance module and making the driving extremely easy for any kind of amplifier. Our tuning port is also distributed and it irradiates backwards at 360°. But that's not all. Our system is tunable, too ! Indeed the back panel can be mounted at a different distance from the cabinet (through height spacer supplied) in order to tune the speaker at different frequencies and adapt to the customer's taste b
The derived low range is extremely articulated, clean, fast and most of all full of harmonics. The typical monochord low of bass reflex systems is only a distant memory.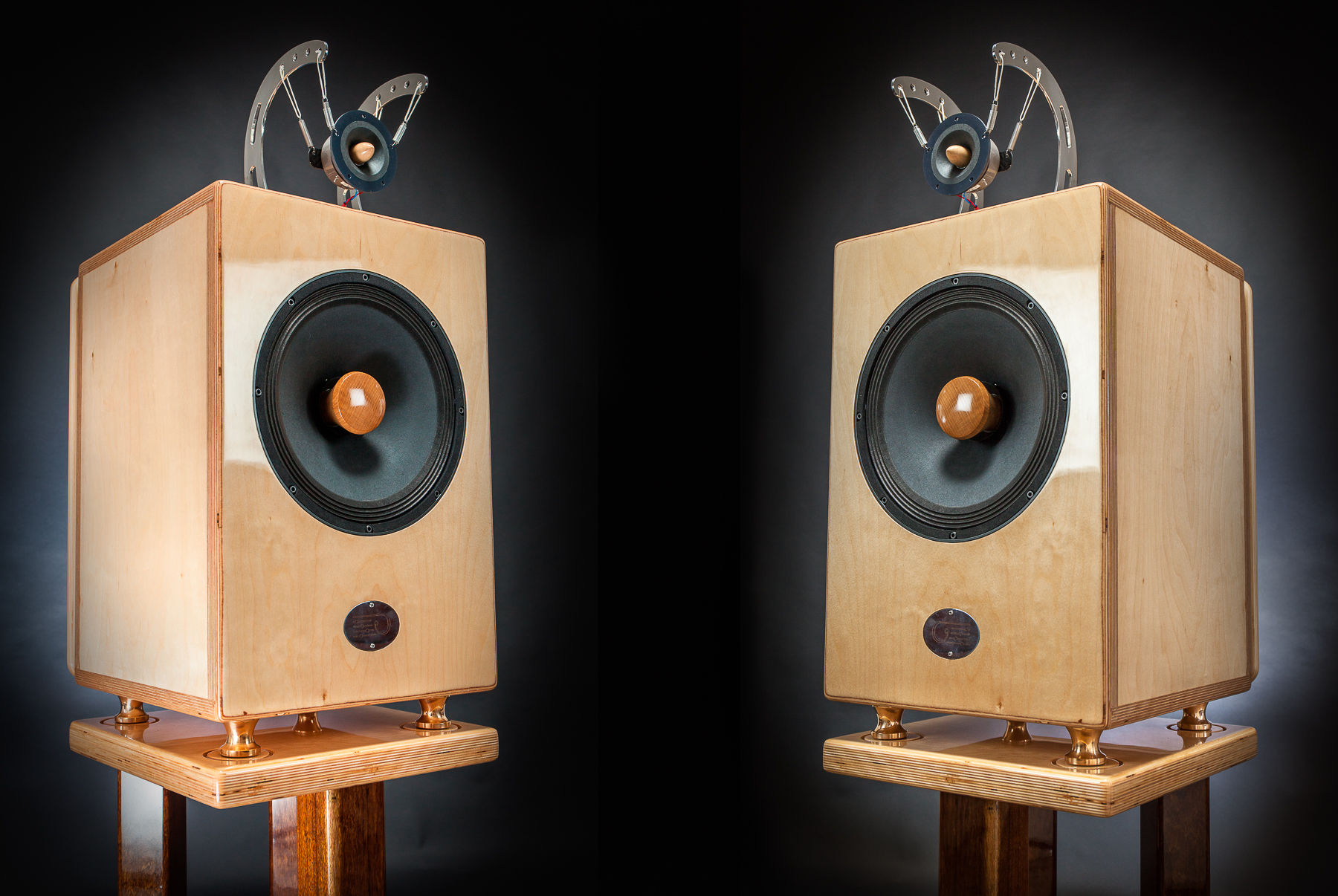 The building of the 'ARIA' is carried out with the greatest attention to every detail. We use carbon fiber inserts; connectors, wiring and painting have been implemented with no expense spared. The Clinamen philosophy of direct sale allows us to void any marketing and distribution costs, therefore our price reflects the actual value of the products bought.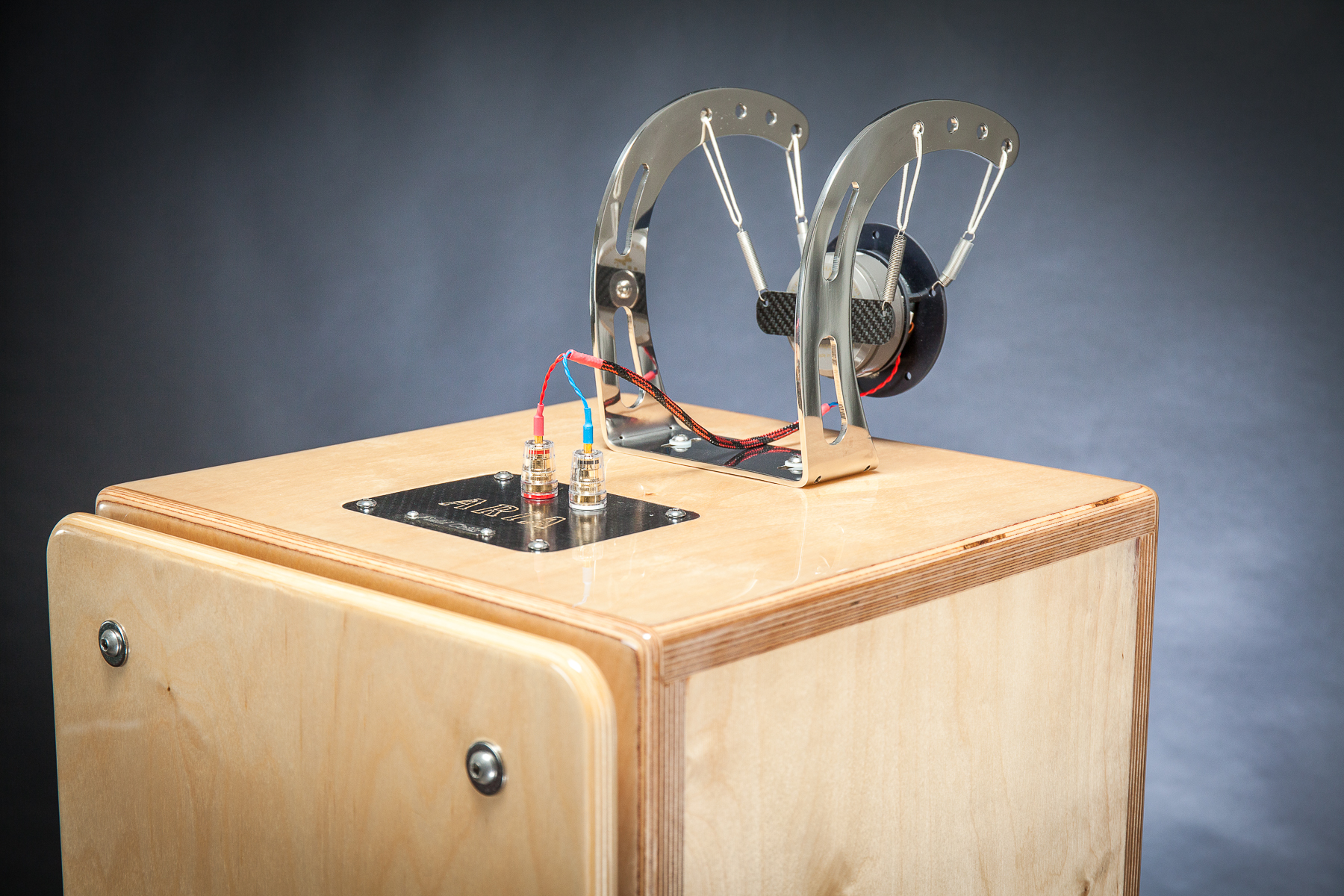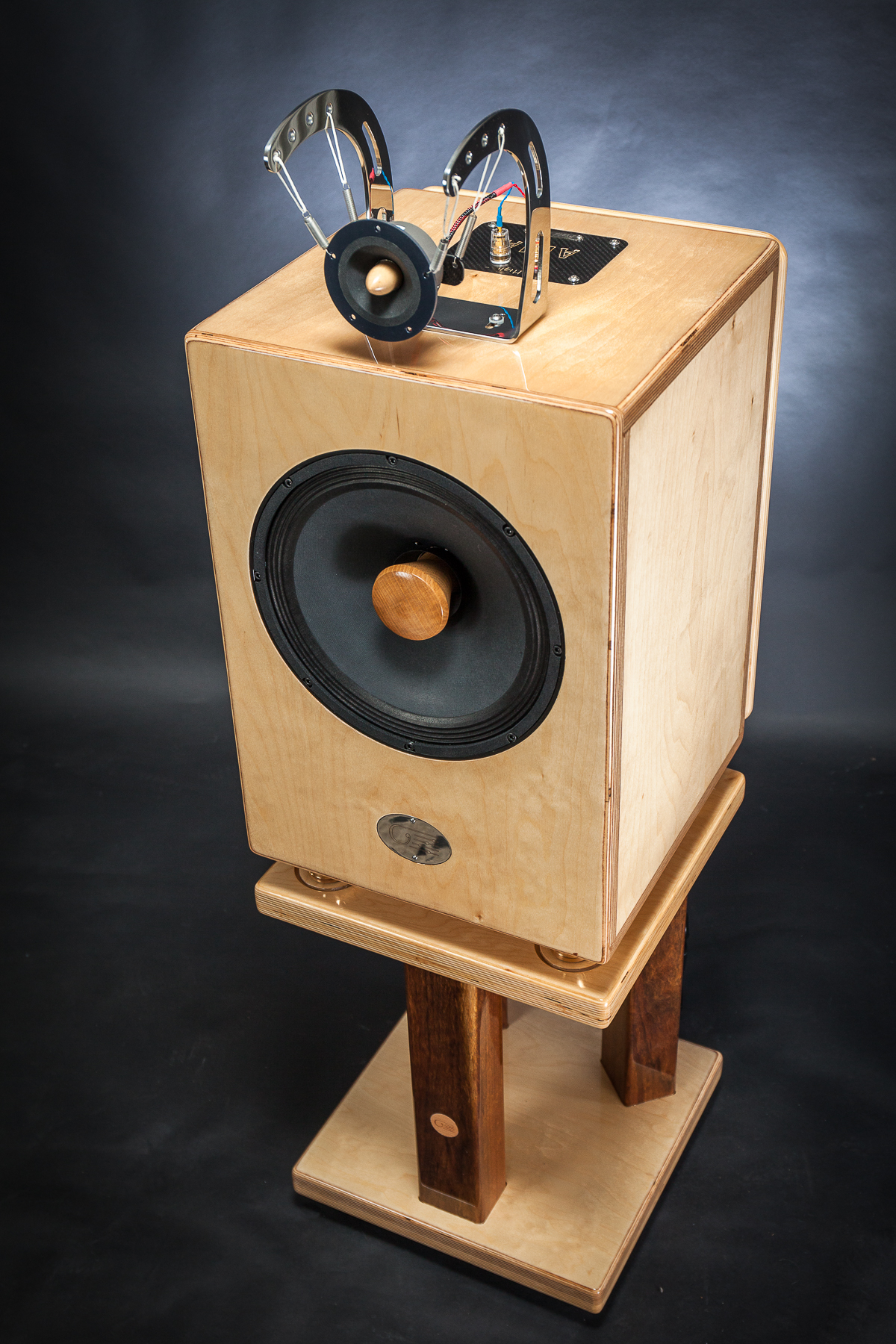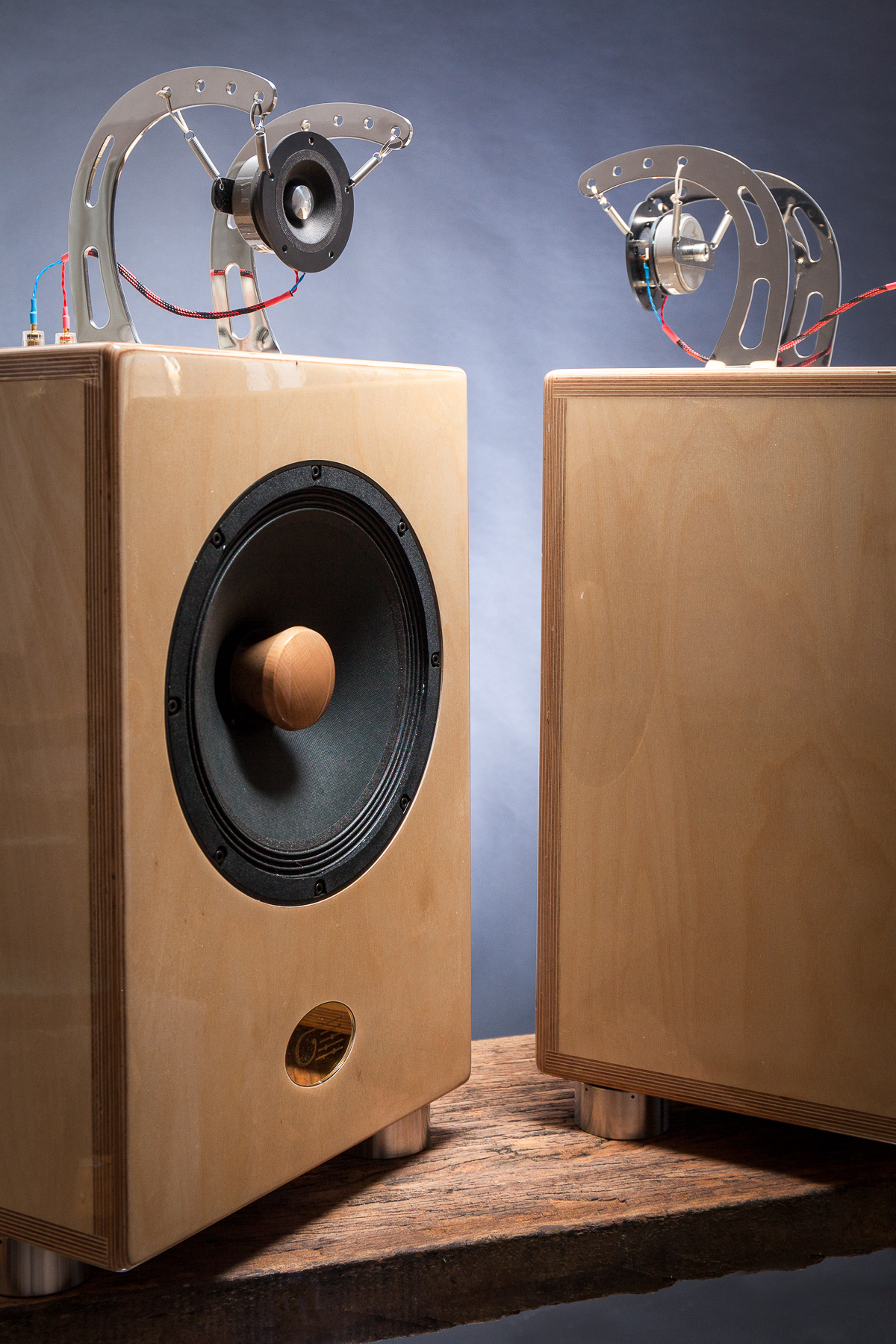 The care taken on the 'ARIA' loudspeakers is obviously also carried on inside it, where natural wool is used as acoustic absorber. The wiring is carried out with silver plated copper multithreaded cables insulated and dampened with Teflon and annealed after drawing and finally covered with an elegant nylon/copper sock. The loudspeaker is internally wired for bi-wiring. This architecture is also followed in the crossover, which has two completely independent ways. The components are outstanding (Jantzen custom coils with very low loss series resistance and Jantzen Allumen Z-CAP condensers) are mounted with point to point handmade wiring on a beech plywood support that can be removed for inspections and checks. All the screws are stainless steel.

As far as amplification is concerned, we advise valve ø feedback low power amplifiers. The best possible range is between 5 and 20 Watts. More powerful amplifiers cannot have high quality as far as lesser wattage is concerned, regardless of their cost. The ARIAs are capable of high dynamic contrast and authenticity upon listening therefore they need the simplest and purest power possible. Any compromise, trick and gimmick (total or partial feedback loops, cathode followers, undersized or nonlinear transformers) will be exposed by the 'ARIA'. Using our amplifiers Sarasvati or Dharma is the ideal solution. The ARIA is designed to work at its best in rooms up to 25sqm. For bigger areas we suggest our Calabi Yau. We advise uncoupling from the stand with our spring feet. For excited ARIAs, considering their weight, it's better to use our coupling brass feet.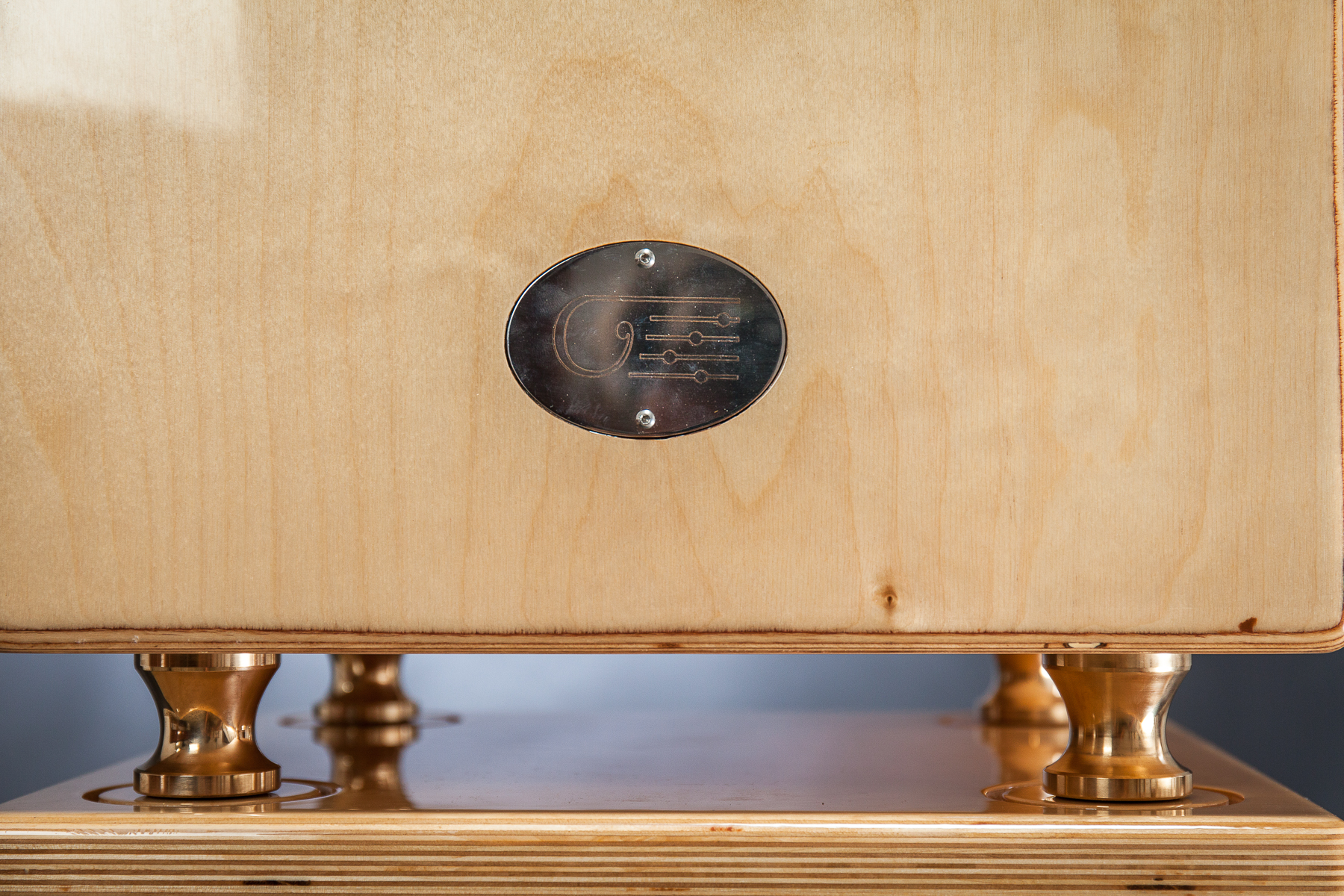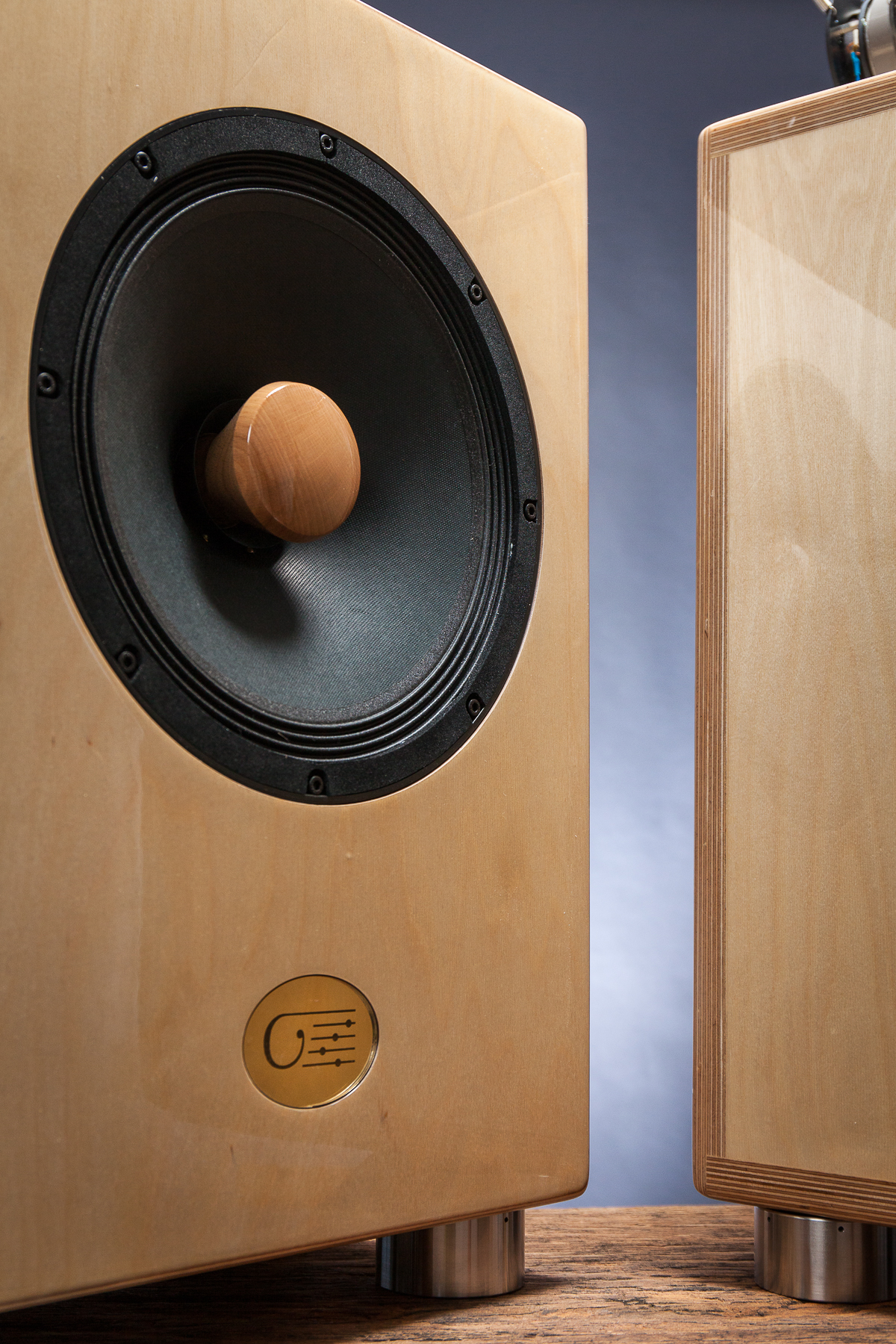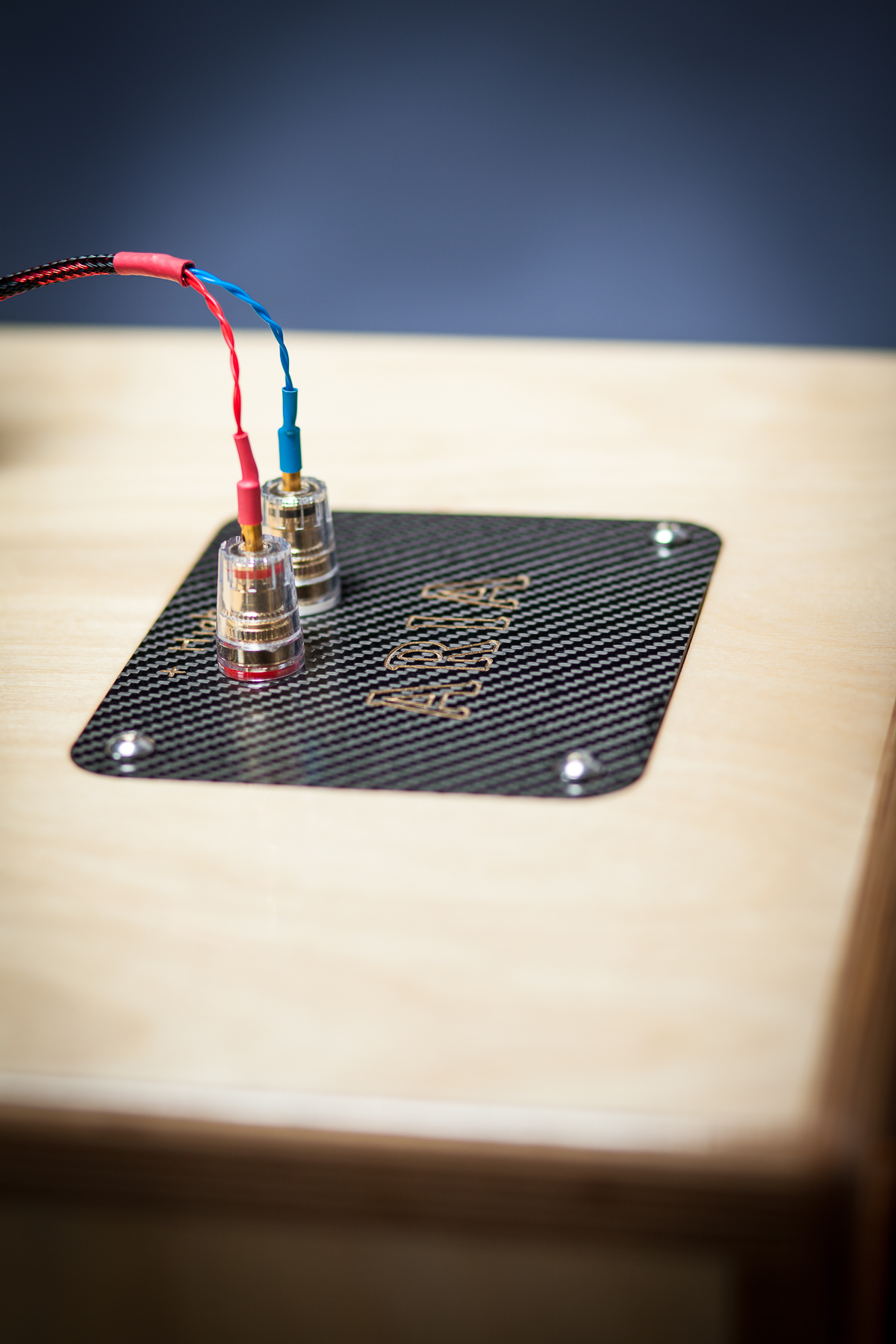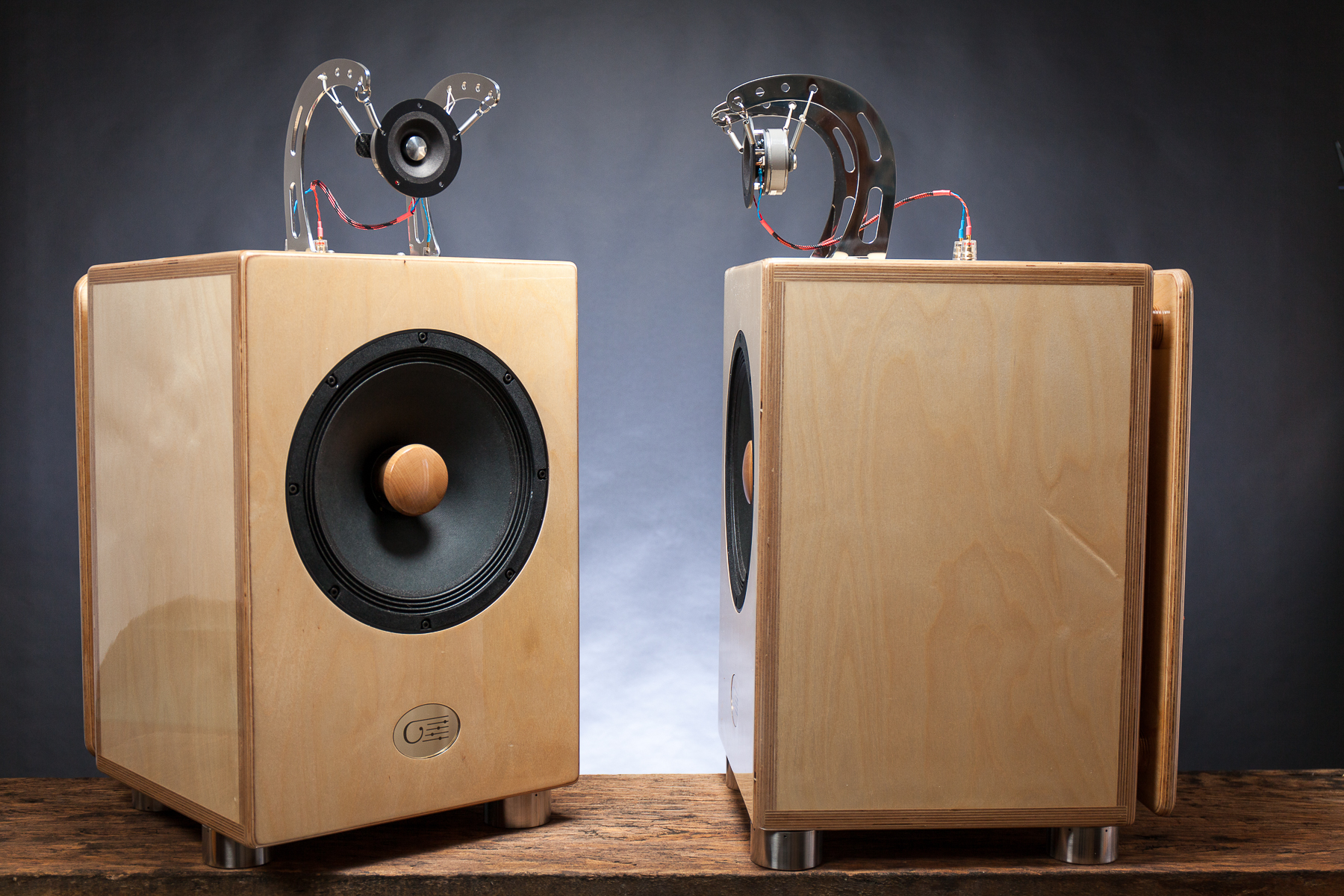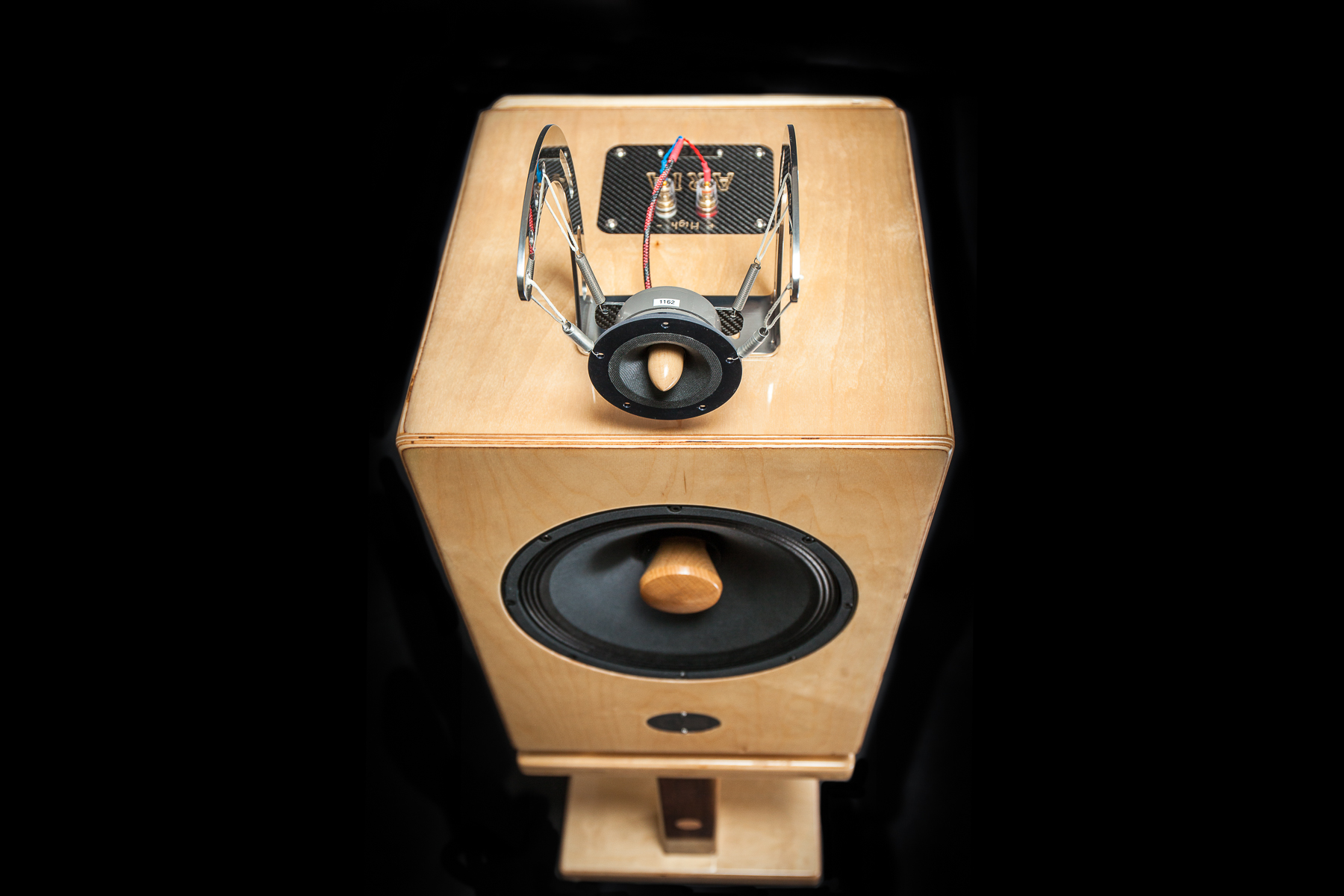 Technical Data
High sensitivity two way loudspeaker

Sensitivity: 95 dB/W/m

Maximum room size: 25 square meters

Reccomended power : 4-20 Watt RMS from class A , zero feedback vaccum tube amplifers.

Main speaker: 12" full range, 30 Hz resonance frequency. Beech wood phase plug, ferrite magnet with

underhung design for the polar plate/cabinet coil group

. Field coil motor on demand.

Predisposition for field coil motorization

Tuned-reflex box propetary system: TDDR (

Tuning Distributed Damping Reflex

)

Tuned reflex door, for Fb adjustement.

Paper tweeter in a wood beech wave-guide, beech phase plug, dypolar emission, mounted with damped system.

C

a

binet is made from birch plywood of 24mm thickness with jointed panels

Bi-wiring

Hand made crossover building on a birch plywood, point to point wired.

Custom Clinamen internal wiring ( silver plated OFC copper, teflon isulator, multiconductor, twisted)

Crossover components: coils --> Jantzen

copper foil insulated by paper and impregnated with wax. Capacitor --> Jantzen Allumen Z-CAP

Dimension: L= 40 cm ; H= 58 cm; D= 44 cm.

High ( including tweeter) : 78 cm

Net weight for each loudspeaker : 32 kg (36 Kg for the field coil version)
PRICE AND ACCESSORY
Price for standard ARIA with mat lacquering painted, including beech wood tweeter phase plug and wave guide :

7990 euro

Extra charge for glossy lacquering: 300 euro

Price for Field Coil ARIA ( field coil full range, ferrite tweeter) , mat lacquering painted: 9900 euro ( field coil PSU not included)

DUAL MONO Field Coil PSU top quality

. Adjustable from 9 to 15 volt ( distrete steps) , not stabilized, 3 Ampere. Double inductive filtering : 1900 euro .