Amaranth headshell
This is the second of our two headshells on offer. They are both made from a block of tone wood, the first one is cocobolo, this one is purple heart ( amaranth). It has been designed as a benchmark. The care in the production, the materials used, its ergonomics, the craftsmanship and the style, and last but not least its sonorous performance put it on a step above any of its competitors.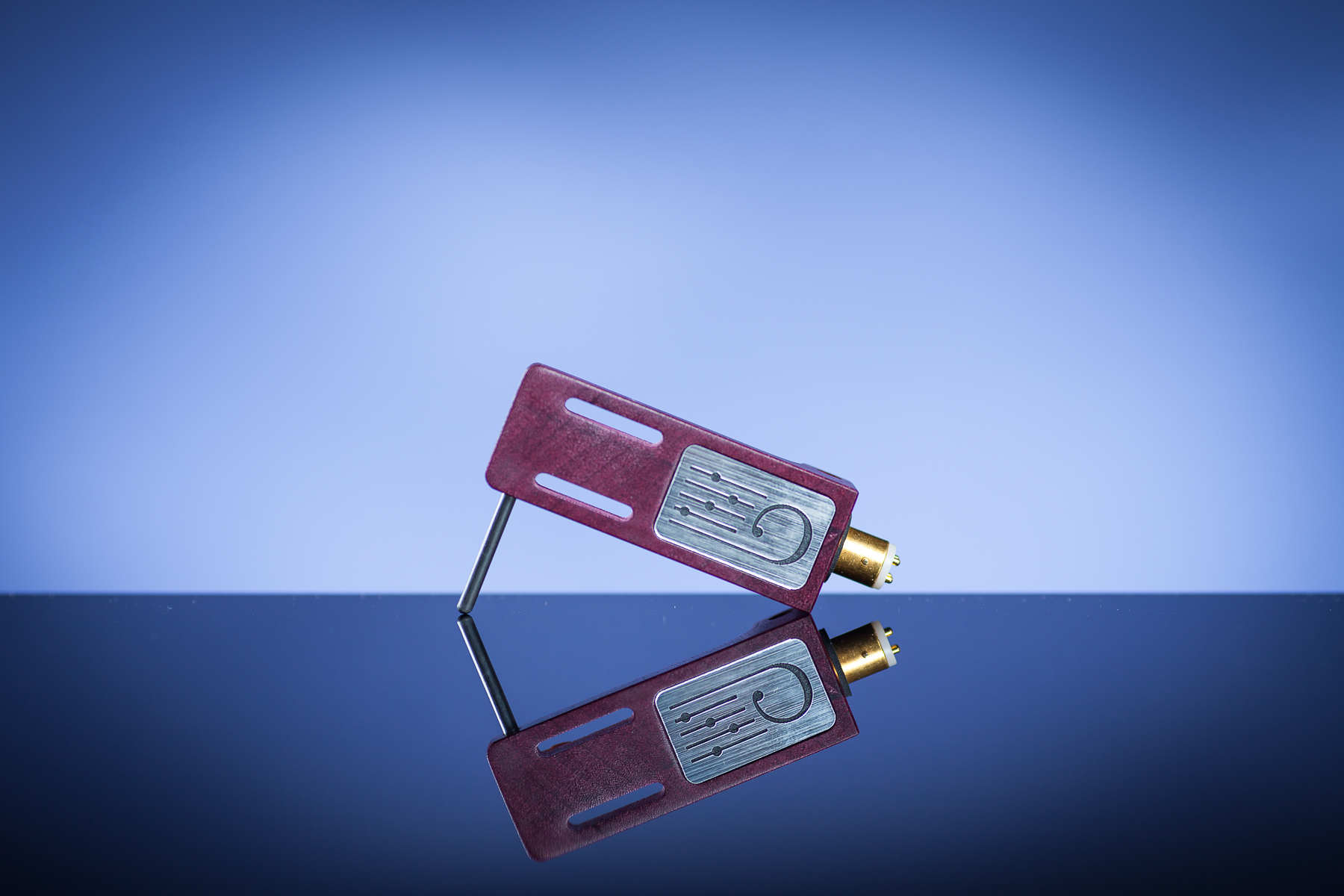 The body of the headshell is made from purple heart, a wood originating from tropical America, particularly hard with a specific weight close to that of water. It is often used in cabinet making and in general in quality woodwork. We think that using tone wood is one of the main methods to walk the natural Path of sound. The body is CNC made from a block of matured wood in order to obtain the necessary dimensional stability and the desired resonance characteristics. After manufacturing it is impregnated with natural shellac and finished with neutral wax.
The EIA connection is made in Italy with DELRIN insulating material. This detail is extremely important for the purpose of sound; it is all made from a block, connection pins, outside body and insulating material. It is attached to the purple heart body by two stainless steel grains placed at 180 degrees, which allows the adjustment between pick-up and vinyl (AZIMUTH); this parameter is fundamental for the correct tracing of the pick-up. Please note that the grains are screwed on to two helicoils, not directly on the wood. This allows a medium tightening, with no risks of breaking the thread (we advise against excessive tightening also because it is not necessary).
The Clinamen logo is laser printed on a recessed plate on top of the Headshell.
The connection cables are made with Litz OFHC copper multiple conductors, 5 per pole, individually enameled and insulated. The section of the single thread is 33 AWG. The high quality clips are made from phosphor bronze, gold plated. The soldering is made with 4% Ag solder. The length is 45mm, connections included,. The weight, electrical connections included, is 15 grams.
The Purple heart Headshell is sold in an elegant velvet bag which also includes a key for the calibration of the Azimuth, two sets of SAE 304 M2.5 screws and relevant nylon washers.

PRICE

The sale price is 280 €.